"Each friend represents a world in us, a world possibly not born until they arrive, and it is only by this meeting that a new world is born."

Anais Nin
GGs!
Congratulations on making it through week one of our 30-Day Friendship Challenge!
Can you imagine how different the world has become because over 20,000 people are spreading crazy love?
Whew! My heart is on fire!
Here's the truth, love conquers all. Love connects hearts around the world. Love speaks every language under the sun. Love heals sickness and disease. Love resurrects what was once dead and gone.
If you want to go into week two strong, use LOVE as your super strength!
And, watch what happens when you do. It will feel like magic but it's not. It's actually the intention of your heart manifested in the lives of the people you love!
Remember, we always begin with our relationship with ourselves first. Whitney Houston said and I do quote "Learning to love yourself is the greatest love of all." When she said this, I believe she wanted us to use self-love as a means to attract people who will also be attracted to our self-love. So don't forget to use these same challenges to connect deeper within as well.
We have a few episodes of the podcast that speak directly to this:
Ep 101 Identity Crisis: Three Affirmations for Self Reflection
Ep 50 Three Power Questions for Every Woman
Ep 41 Self Care: The Ultimate Self Care Starts Within
So what are you waiting for?
Your GGs need the love, joy, and connection you have to offer during this difficult time. Dive right into week two and power up your great girlfriend circle!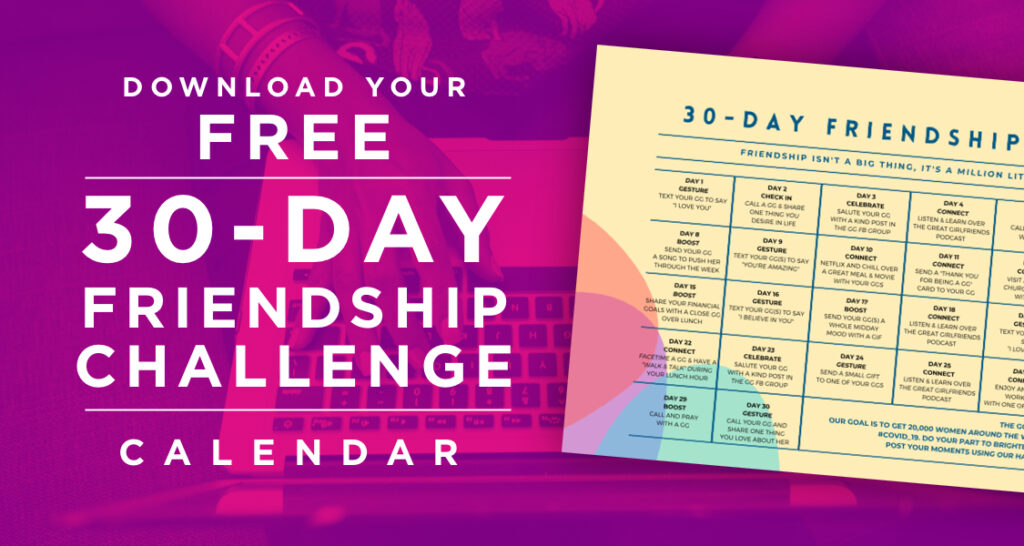 Click here to download your free 30-Day Challenge Poster
Once the file opens in a separate window, right-click and "Save Image as" to save it to your desktop.